VALE: DAYMON STOKIE | Local | News
With the tragic passing of 28-year-old Daymon Stokie during the Deep Well Enduro in Alice Springs, we look back at the Alice Springs rider's historic 2017 Finke Desert Race and 2016 Baja 1000 wins.
Stokie's first King of the Desert crown was historic for a number of reasons. First, he was the first local rider to win Finke since Ryan Branford on a Honda in 2006.
Second, he was the first non-Honda/KTM rider since David Armstrong won on a KX500 in 1987.
Third, he was the first Yamaha rider to win since Stephen Gall in 1986. Stokie prologued in third but passed Ivan Long early in the race after the SA rider suffered mechanical issues.
Stokie then capitalised on David Walsh's mechanical on day two to take the lead. A broken hand wasn't making things easy, but he managed to fend off challenges from Luke Hayes and Long to claim a historic victory for Yamaha and Alice Springs.
But before his monumental Finke win, Stokie was also a Baja Champ.
In 2016, Stokie etched his name into the history books by becoming the first Australian to win the Baja 1000, doing so on his 26th birthday.
Riding for the Ox Motorsports' A team as a fill-in for injured Baja legend Colton Udall, Stokie had to take on Udall's night section and covered 267 of Mexico's punishing desert terrain in darkness to help push the team to victory.
We spoke to Daymon after his Baja victory. Here is what the humble Northern Territory local had to say about his historic ride.
"I actually felt less prepared this time round than my first attempt at the Baja 1000 the year before," Stokie said. "I got cut short with pre-running and because Colton crashed out a few days before the race, I got jumped up to the 1X bike, so there was a lot more pressure for me."
"I don't have much experience riding at night," Stokie revealed.
"Racing the night session was very hard. I had a 267-mile section and in that I had to deal with oncoming traffic and I was passing traffic. There were Trophy trucks, chase drivers, all sorts of things, so that made the dust really bad.
"Plus it's a lot different to racing in Australia. There's a lot more things to take into account when racing in Mexico. Everything is a lot harsher over there.
"Nothing gets maintained and all the tracks get pre-run all year by the Trophy trucks, so the course gets a lot rougher. There is a lot of rock base, too, something we don't get in Alice Springs."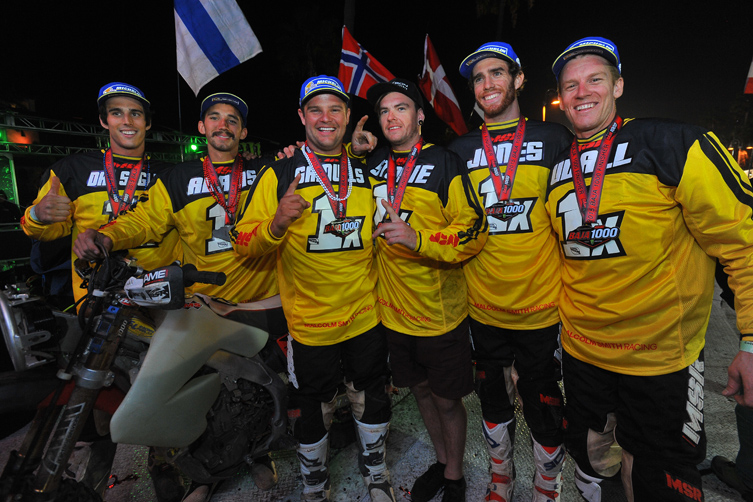 Stokie enjoyed a boomer 2016 season, which also saw him claim 450cc honours in the Finke Desert Race and win the 24 Hours of Glen Helen endurance event during his U.S. tour.
The above results are part of a long list of impressive accomplishments Stokie achieved before his life was tragically cut short on Saturday 27 January, 2018. Tributes have been flooding in since news of the tragic accident dropped. Our thoughts are with Daymon's family and friends during this difficult time.