Toby Price moves into third position after stage 6 Dakar Rally | Off-Road | Sport
Red Bull KTM Factory Racing's Matthias Walkner has ridden to an excellent third place finish on an extremely technically demanding, and physically exhausting, stage six of the 2019 Dakar Rally.
Toby Price followed his teammate home in fourth, with Luciano Benavides once again finishing inside the top 10 in ninth.
With the rally now past the halfway stage and heading back towards the host city of Lima, stage six covered some of the same ground as previous stages. An extremely long day for all competitors, the 838 kilometres total distance included a 336-kilometre timed special. The route took riders through the characteristic soft sand dunes of the Ica desert before subjecting them to faster, more open rocky pistes. A strong wind towards the end of the stage only added to the challenge.
Just 27 seconds adrift from teammate Walkner, Toby Price continues to battle on despite the increasing pain in his wrist. The Australian's fourth place result puts him in an ideal start position for Monday's stage seven. Price lies third in the provisional standings.
Toby Price: "It's been a really tough day today. My wrist is hurting more and more as the race goes on and it's making things uncomfortable out there. I'll keep cruising on though and I'm still in the race, it's just a bit more like survival mode at the moment. Nevertheless, third overall with four stages left to race is encouraging. The goal is the same – make it safely to the finish – so I'll keep on pushing on tomorrow."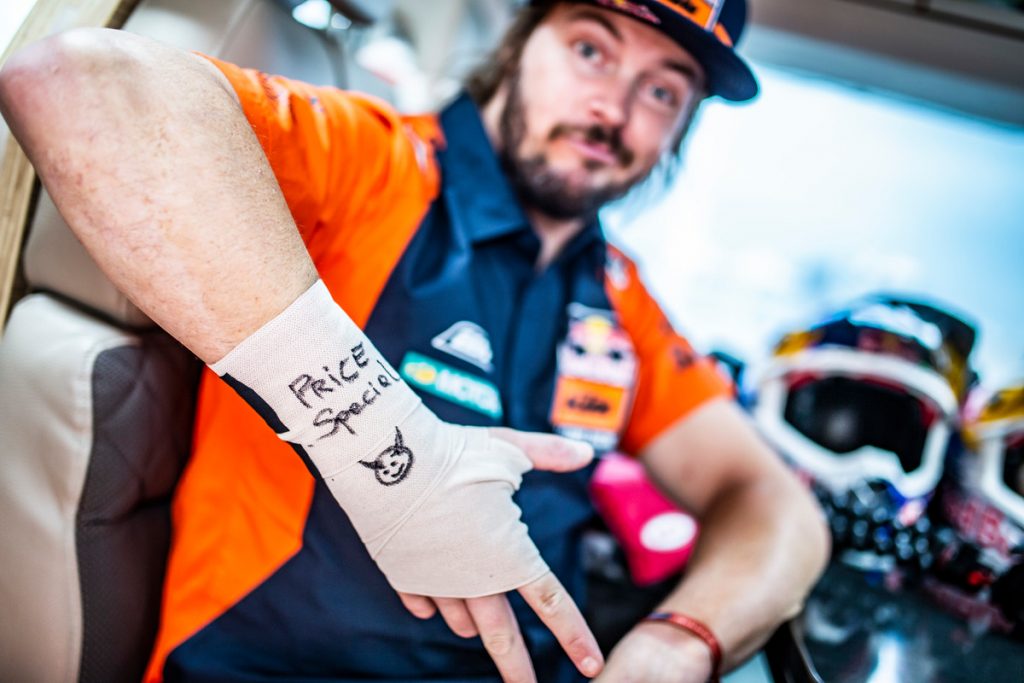 Putting in a superb ride in the tough conditions, Matthias Walkner was able to navigate his way successfully through the stage despite riding alone for the majority of the day. His third position, just over four minutes from the leading time, moves the Austrian up to sixth in the provisional overall standings.
Matthias Walkner: "I had a good ride today, navigation was really tricky, but I had some lines in front of me, so I just had to stay focused and use my head a little. I rode the majority of the day alone and that can be tough sometimes, but I'm pleased with my riding and the result, especially as the overall pace was so high. Overall, it has been a good day."
Following his win on the previous day of racing, Sam Sunderland was given the unenviable task of opening today's technical and gruelling stage. The British rider lead out from start to finish but unfortunately lost time overall to the following pack. Sunderland lies seventh overall, but vows to push his hardest right to the finish.
Sam Sunderland: "I was up against it a little today. After stopping to help Goncalves on the fifth stage I had no markers to set my pace and by winning the stage I upset my overall strategy for the race a little. As we know, opening the stage is always a disadvantage and today, with harsh conditions and tricky navigation, it cost me a lot of time. Personally for me, I was pleased with my riding and how I managed the navigation out front, that was really encouraging. I lost a little time after clipping a rock and damaging my rear brake, but the team were great and replaced that at the neutralisation. The race isn't over yet though and I'm going to keep fighting. It's Dakar, it's always a challenge."
Provisional Results Stage Six – 2019 Dakar Rally
1. Pablo Quintanilla (CHI), Husqvarna, 3:50:47
2. Kevin Benavides (ARG), Honda, 3:52:39 +1:52
3. Matthias Walkner (AUT), KTM, 3:55:08 +4:21
4. Toby Price (AUS), KTM, 3:55:35 +4:48
5. Adrien Van Beveren (FRA), Yamaha, 3:56:35 +5:48
Provisional Standings after Stage Six – 2019 Dakar Rally
1. Pablo Quintanilla (CHI), Husqvarna, 20:45:13
2. Ricky Brabec (USA), Honda, 20:49:51 +4:38
3. Toby Price (AUS), KTM, 20:50:30 +5:17
4. Kevin Benavides (ARG), Honda, 20:53:14 +8:01
5. Adrien Van Beveren (FRA), Yamaha, 20:54:45 +9:32