SUNDERLAND TAKES OVERALL RALLY LEAD WITH RUNNER-UP FINISH ON DAKAR STAGE TWO | Off-Road | Press Release
Red Bull KTM Factory Racing's Sam Sunderland has finished second on stage two of the Dakar Rally, moving into the provisional race lead.
Luciano Benavides enjoyed another solid day in Saudi Arabia, finishing fifth. Matthias Walkner and stage one winner Toby Price finished in eighth and 15th places respectively after opening much of the special.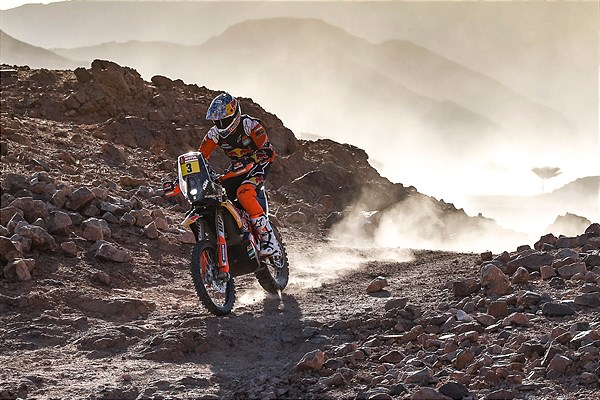 Stage two at the 2020 Dakar Rally presented riders with several new challenges. The pre-coloured road books used for the first time this year were only given to competitors 25 minutes before the start of the timed special. Also, with the day marking the first half of the event's Super Marathon stage, riders were only allowed 10 minutes to work on their bikes at the end of the day, with no outside assistance permitted.

As the fifth rider to enter the day's 367-kilometre special, Sam Sunderland was able to maximise his advantage and push right from the start. The 2019 FIM Cross-Country Rallies World Champion was able to improve his position throughout that stage to ultimately post the second-fastest time. Sam now enjoys a lead of just over one minute in the provisional overall standings.

Sam Sunderland: "It was a really tough day today and it felt very long. There was a huge mix of terrain with high speed tracks and then slower technical sections. In and out of the canyons there were a lot of lines visible and that made navigation more of a challenge. I made a couple of mistakes, but I think everyone did out there today. All-in-all though I had a good run, just trying to stick to a steady rhythm and build up my pace as the race goes on."

Luciano Benavides continues to show great pace and consistency at this year's event. The young Argentinian, in only his third Dakar, placed fifth on the day's special to elevate himself to seventh in the overall standings. With a strong start position for stage three, Benavides is confident of another good result.

Luciano Benavides: "It's been a good day for me – I finished inside the top five and I'm really happy with my rhythm here in Saudi. I enjoyed the stage today but came very close to crashing at one point. Luckily, I was able to stay on and from there I decided to bring the bike home safely and make sure it is good for tomorrow."

Despite being the third competitor into today's stage, Matthias Walkner was able to use his skill and experience to carefully navigate the technically demanding route, making the minimum of errors to complete the stage in a solid eighth place. Now lying an excellent fourth overall, the Austrian rider will enjoy an advantageous start position for the second half of the Super Marathon stage.

Matthias Walkner: "I had quite a good day today – the navigation was tough but I was able to push on from the start and at about 45 kilometres I was able to catch Toby. From there I opened the piste to the halfway point. We then rode in a group of four until the finish, which can be tricky as the dust from any riders in front makes it difficult to see stones and rocks hidden in the soft sand. Thankfully I was able to look after the bike and it's all ready to go for tomorrow."

Winner of the first day, Toby Price had the unenviable task of opening stage two. That, combined with the limited time to acquaint himself with the road book, made navigating the stage extremely tricky from the front of the pack. Despite the disadvantages, the reigning champion put in a good ride to 15th place and now lies ninth in the provisional overall standings, seven minutes and 34 seconds down on Sunderland.

Toby Price: "Today was always going to be tough, leading out from the start without having had much time to read the road book. The stage went ok, I lost some time to the others but the most important thing is I looked after my bike and the tyres so should be in good shape to close down on the leaders again tomorrow. There's still a long, long way to go, but the bike is working great, things are looking good and I'm happy."

After a tough day in the Saudi Arabian sand, KTM Factory Racing's Mario Patrao completed stage two in 41st place. An error early on cost the Portuguese rider some time and he was then forced to ride in a group until the finish. Despite the challenging day, Mario was able to bring his KTM 450 RALLY home in one piece and now looks forward to stage three.

Mario Patrao: "It was a difficult stage for me today, I made a mistake at kilometre six and was then caught by some other competitors. Riding in dust for the rest of the stage was really tricky as it's so difficult to see any rocks or other dangers. To stay safe, I hung back a little, which cost me some time. Overall, the bike is good and I'm ready for tomorrow."

Tuesday's stage three of the 2020 Dakar Rally will see riders complete a looped course starting and finishing at the city of Neom. Of the 504 kilometres covered, 427 will be timed special, leading competitors towards the border with Jordon and rising to the highest point in this year's rally at an altitude of 1,400 metres before returning to the bivouac.

Provisional Results Stage Two – 2020 Dakar Rally

1. Ross Branch (BWA), KTM, 3:39:10
2. Sam Sunderland (GBR), KTM, 3:40:34 +1:24
3. Pablo Quintanilla (CHI), Husqvarna, 3:41:31 +2:21
4. Kevin Benavides (ARG), Honda, 3:42:50 +3:40
5. Luciano Benavides (ARG), KTM, 3:42:54 +3:44
Other KTM
8. Matthias Walkner (AUT), KTM, 3:45:09 +5:59
15. Toby Price (AUS), KTM, 3:51:23 +12:13
41. Mario Patrao (POR), KTM, 4:27:02 +47:52

Provisional Standings (after stage two) – 2020 Dakar Rally

1. Sam Sunderland (GBR), KTM, 7:05:22
2. Pablo Quintanilla (CHI), Husqvarna, 7:06:40 +1:18
3. Kevin Benavides (ARG), Honda, 7:06:54 +1:32
4. Matthias Walkner (AUT), KTM, 7:07:22 +2:00
5. Ricky Brabec (USA), Honda, 7:09:33 +4:11
Other KTM
6. Ross Branch (BWA), KTM, 7:09:41 +4:19
7. Luciano Benavides (ARG), KTM, 7:11:23 +6:01
9. Toby Price (AUS), KTM, 7:12:56 +7:34
39. Mario Patrao (POR), KTM, 8:34:27 +1:29:00